How I Got Into Computers - Greg Allen
In 1981 I was fat and happy selling copy machines in the Charleston SC area. The Monroe Plain paper, dry toner copiers was THE new hot technology and I sold the fool out of them, worked 8-5, 5 days a week and brought home 3k per month. Nice gig for '81.
Later that year Monroe gave each branch office a Monroe OC 8820 computer (manufactured in Lexington, SC) for training purposes as they planned to begin selling this new product the following year.
Personal computers were new. IBM PC, Apple I and Tandy TRS-80s played games like pong but
did little for business. Monroe hit the ground running with serious accounting and finance software along with Word Star, SuperCalc, and D-Base II, and a plan to become the business computer company of choice, the next IBM.
I figured out how to use the computer and wrote a contact management package to keep track of sales suspect, prospects, to-do lists, direct mail, telephone marketing, kind of like ACT or Goldmine programs today. My personal sales income climbed to 5k per month whilst retaining my 8-5 regiment; sweet deal!
At Monroe's yearly sales awards ceremony I attributed my success to the new Monroe computer, whereby I was plucked out of copier sales bliss and whisked away to the newly formed computer division. Though I initially went 'kicking and screaming', the training was excellent, and soon I found myself earning a good living. Some of my early sales included an F&I system to Bilton Ford, an income tax preparation program to Pinnacle One, and various loan / mortgage programs to South Carolina National Bank (now Wachovia).
In '84 Monroe came out with a 80186 computer and a package called Open Access that worked much like Microsoft Office works today. This package should have dominated the market as it was the best thing going at the time. However, after Monroe's hefty investment in 80186 technology, IBM introduced the PC-AT with an 80286 processor, thereby rendering Monroe's offering obsolete, and thus ending Monroe's foray into the computer market.
So I took what I learned from Monroe and parlayed it into a business. I wrote accounting, point-of-sale, and loan / mortgage software and bundled these with AT&T and Victor computers, and offered high-value business solutions and service at reasonable prices. Also, in'92 I wrote and integrate a shop-floor manufacturing system for Williams Technologies (now Caterpillar). This system integrated inexpensive off-the-shelf personal computers and software to control workflow and quality on a massive scale. The project was so successful that it halved production time, doubled profits, and greatly improved quality. In addition, the technology resulted in sales to Ford, Chrysler, Mazda, Nissan, Honda, and Hyundai., and a nice write-up in Computerworld and AME Target Magazine (Association For Manufacturing Excellence. And that's how I got into computers!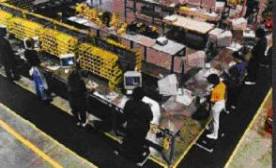 OC-8820 Technical Data
The Monroe OC-8820 was an all-in one Z80a based system featuring 128 to 256 KB of RAM, a 9" square amber monochrome CRT and a dual 5.25" 320 KB floppy disk drive.
It used its own multitask operating system developed by Litton Industries called OS8MT, but a CP/M OS could be acquired separately along with a specific Monroe BASIC interpreter, Dbase II database, Wordstar word processing, and a SuperCalc spreadsheet. Even under CP/M, You could run a Spreadsheet report and still run Wordstar.
A 5 or 10 MB full height hard-disk drive unit was also available.
| | |
| --- | --- |
| NAME  | OC-8820 |
| MANUFACTURER  | Litton - Monroe |
| TYPE  | Professional Computer |
| ORIGIN  | U.S.A. |
| YEAR  | 1982 |
| BUILT IN LANGUAGE  | The Monroe BASIC was an extended version of the BASIC used in the Luxor ABC80/ABC800 computers. |
| KEYBOARD  | Typewriter type, 93 keys with numeric keypad & function keys |
| CPU  | Z80a |
| SPEED  | Unknown |
| RAM  | 128 to 256 KB |
| VRAM  | 16 KB |
| ROM  | Unknown |
| TEXT MODES  | 80 columns x 25 lines |
| GRAPHIC MODES  | None |
| COLORS  | Monochrome amber |
| SOUND  | Unknown |
| SIZE / WEIGHT  | Unknown |
| I/O PORTS  | 1 parallel and 1 serial port |
| BUILT IN MEDIA  | 2 x 320 KB 5.25 floppy-disk drives |
| OS  | Proprietary Monroe OS called OS8MT (MT for multi-tasking), CP/M |
| POWER SUPPLY  | Built-in PSU |
| PERIPHERALS  | 10 MB hard-disk unit |
| PRICE  | about $8,995 |
Log in to post comments

4268 reads